Reference case:
Beckman Coulter optimizes transport and transport manag
e
ment thanks to ShipitSmarter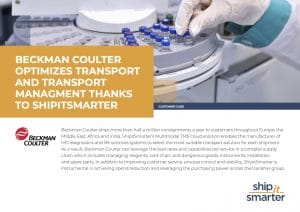 Beckman Coulter IVD diagnostics solutions are used in laboratories and medical institutions all
over the world. The company, which has been part of Danaher since 2011, has set up three different supply chains: one for the instruments themselves, one for spare parts and one for reagents.
"More than half a million shipments per year in total. Without a good transport management system (TMS) it would be impossible for us to provide our customers with the level of visibility and service they expect," says Valerie Le Blanc, Transport and Logistics Manager EMEAI at Beckman Coulter.