New Colleague: Marleen in position of content creator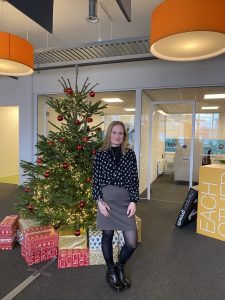 ShipitSmarter, leader in Shipment Management Platform solutions, appointed a new colleague: Marleen Hoenink. With this addition, ShipitSmarter impoves the overall skill set of the marketing team. 
Hi, my name is Marleen. Starting December I will be joining the team as content creator and I'm looking forward to working with you.
For the past four years I worked as a legal professional in intellectual property law. Research and communication were key components of my job, and I enjoyed occasional wordsmithing on the side as a freelance copywriter. One thing that always bothered me was that I could share my expertise with only one (paying) customer at the time. This doesn't match my natural instinct to teach, and hoarding knowledge that could help others feels wrong to me. So you can see why I'm excited to get started in my new role! Equipped with insatiable curiosity and unhampered by deep prior knowledge of SaaS, I will help share your expertise with (potential) customers. Besides work, I love to listen to podcasts and discover new music, share life with my friends and boyfriend Joeri, and live in Amsterdam with my living room missile/cat Tigerlily.
About ShipitSmarter
At ShipitSmarter we understand your need to organize your transport management in the best possible way: with maximum effectiveness and efficiency. That is why we developed a Shipment platform to manage all operations required for smoother and smarter shipping. Our advanced Shipment Management platform offers end-to-end excellence, providing you with a simple step-by-step process to ensure that your shipment is delivered at the right place, at the right time and at the right price.
For more information, please visit www.shipitsmarter.com and follow-us on Linkedin.