Reference case:
Kongsberg PCS digitalised international shipping process with ShipitSmarter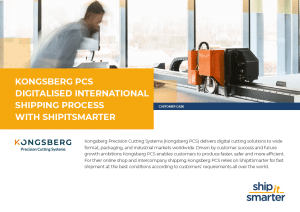 Kongsberg Precision Cutting Systems relies on ShipitSmarter for their online shop and intercompany shipping for fast shipment at the best conditions according to customers' requirements all over the world.
Find out how and download the reference case below.
Kongsberg Precision Cutting Systems (Kongsberg PCS) delivers digital cutting solutions to wide format, packaging, and industrial markets worldwide. Driven by customer success and future growth ambitions Kongsberg PCS enables customers to produce faster, safer and more efficient.
"ShipitSmarter proved to be especially usefull for last minute orders, we are now able to ship orders 5 minutes after receiving."  Matúš Kulíšek, Logistics Teamleader for Service Orders at Kongsberg PCS