Reference case:
Movianto Belgium ready for growth
by adding ShipitSmarter to their logistics process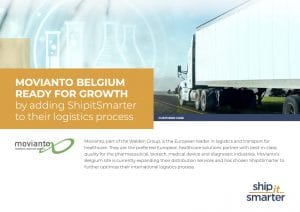 Movianto's Belgium site is currently expanding their distribution services and has chosen ShipitSmarter to further optimize their international logistics process.
Find out how and download the reference case below.
Movianto, part of the Walden Group, is the European leader in logistics and transport for healthcare. They are the preferred European healthcare solutions partner with best-in-class quality for the pharmaceutical, biotech, medical device and diagnostic industries.
"With ShipitSmarter we are prepared for European or Global growth and ready to realize our ambitions." Leen Michiels, Site Manager at Movianto Belgium