ShipitSmarter appointed Johan de Grijff as Commercial Director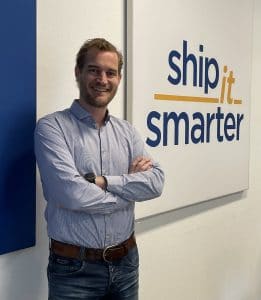 ShipitSmarter, a leader in Transport Management Platforms supporting organizations with efficient and cost-effective shipping, today announced the appointment of Johan de Grijff as Commercial Director.
As an experienced commercial leader within the Information Technology and the Logistics Market Johan will lead the Sales & Delivery team to further support ShipitSmarters' strategic ambitions.
"We are very pleased that Johan joined our sales team last year", said Michiel van Mourik, Managing Director at ShipitSmarter. "His personality and international experience make him the right person to lead the Sales & Delivery team as of this moment. With our ambition to support organizations in their day-to-day logistic challenges and contribute to realizing their business objectives, this is the step forward we need in further optimizing our processes and customer experience."
"I'm very excited about my new role within this ambitious and innovative organization. Especially because it enables me to play an important part in the next stage of our journey. I am determined to contribute greatly to the growth and success of this organization", said Johan de Grijff, Commercial Director at ShipitSmarter.
About ShipitSmarter
At ShipitSmarter we understand your need to organize your transport management in the best possible way: with maximum effectiveness and efficiency. That is why we developed a Shipment platform to manage all operations required for smoother and smarter shipping. Our advanced Shipment Management platform offers end-to-end excellence, providing you with a simple step-by-step process to ensure that your shipment is delivered at the right place, at the right time and at the right price.
For more information, please visit www.shipitsmarter.com and follow-us on Linkedin.
Want to meet more team members? Read the interview with Simon Koudijs.