ShipitSmarter expands its Implementation force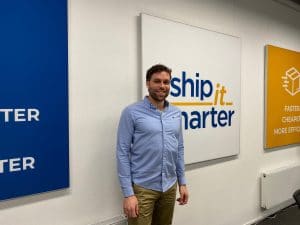 ShipitSmarter, leader in Shipment Management Platform solutions, appointed Bram van der Horn as Implementation Consultant/Data Analyst. This strengthening of the Sales & Delivery Team underlines the commercial ambitions of ShipitSmarter. Bram has a lot of experience as an implementation consultant for multiple renowned companies and is ready to contribute to the growth of ShipitSmarter.
'It is a great pleasure to add such an experienced implementation consultant to our Sales & Delivery team', says Johan de Grijff, Commercial Director at ShipitSmarter. 'His broad knowledge, experience, and data analysis skills, make Bram the perfect addition to the team.' Bram is keen to introduce himself below.
Bram
"Hi everyone, I'm Bram! I'm from the rural north of the Netherlands, and have a background in physics and engineering. I've worked the last 6 years around the world as an Implementation Consultant for different route optimisation software suppliers. After a year and a half in Melbourne, Australia, I returned to Dutch soil this summer. I'm delighted to join ShipItSmarter as an Implementation Consultant/Data Analyst per February 1st!"
About ShipitSmarter
At ShipitSmarter we understand your need to organize your transport management in the best possible way: with maximum effectiveness and efficiency. That is why we developed a Shipment platform to manage all operations required for smoother and smarter shipping. Our advanced Shipment Management platform offers end-to-end excellence, providing you with a simple step-by-step process to ensure that your shipment is delivered at the right place, at the right time and at the right price.
For more information, please visit www.shipitsmarter.com and follow-us on Linkedin.
Want to meet more team members? Read the story of Scott Walker here.