ShipitSmarter strengthens its DevOps squad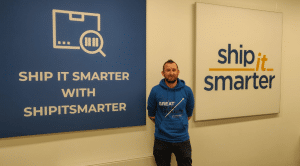 ShipitSmarter, leader in Shipment Management Platform solutions, appointed Scott Walker as Software Engineer. This reinforcement of the Development Team underlines the strategic ambitions of ShipitSmarter. Scott used to work for ShipitSmarter, but as he left the company, he started missing the amazing atmosphere and positive vibe at ShipitSmarter. That is why he returned to our energetic organisation.
'We are absolutely thrilled to announce that an old friend of us rejoined our DevOps team', says Edwin Schuijt, Technical Director at ShipitSmarter. 'His amazing personality, experience, and knowledge make Scott a tremendous addition to our team.' Scott is pleased to introduce himself below.
Scott
It's nice to be back for my second stint at ShipitSmarter. I re-joined last week as a Software Engineer and I'm looking forward to diving back into the interesting problems and challenges that this company faces on a technical level. I'm originally from a small village in the very north of England and moved to the Netherlands just over three years ago. I've had a varied working background starting off as a mechanic when I left school, moving onto teaching before finding my comfy place in Software. I now live in the small town of Dronten with my girlfriend where you'll find me either walking my two dogs or in a pub of some kind.
About ShipitSmarter
At ShipitSmarter we understand your need to organize your transport management in the best possible way: with maximum effectiveness and efficiency. That is why we developed a Shipment platform to manage all operations required for smoother and smarter shipping. Our advanced Shipment Management platform offers end-to-end excellence, providing you with a simple step-by-step process to ensure that your shipment is delivered at the right place, at the right time and at the right price.
For more information, please visit www.shipitsmarter.com and follow-us on Linkedin.
Want to meet more team members? Read the interview with Bastiaan Meenink.