Meet the team: Interview with Simon Koudijs
Quote: 'At ShipitSmarter we are one team, and everybody is part of it.'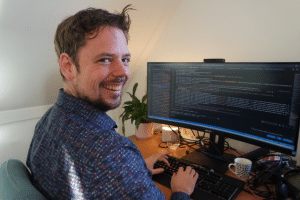 Today we meet Simon 

Koudijs

, an experienced software engineer who joined 

ShipitSmarter

 in 2019 and contributes 

to

 the optimization and development of innovative features in the 

ShipitSmarter

 Shipment Management Platform.

 We have asked him the following questions…


What do you do at ShipitSmarter?
I am working in the DevOps department as software engineer, which is a broad role in this organisation. I love to work together and establish cross functional teams. It is precisely this connection and cooperation that creates the possibility for all of us to learn and grow. In my role as a lead engineer, I bring people together to work on a future proof solution for our customers. I am given the space to look beyond the boundaries of my own role and to use opportunities and possibilities for the expansion and further optimization of our solution.  
What is your specific contribution to the 
ShipitSmarter
 product and team
?
The contribution to ShipitSmarter and the team is not only based on subject matter expertise but on personal matters too. I am involved in the development of cloud-based deployment pipelines for example. For this project I do not only gather colleagues around me who can contribute to this project, but also those who are very interested and/or want to learn from it.  
We work together in an open work environment; the lines are short, and we feel comfortable enough to explore new routes together. A work environment based on trust, fully supported by our management team. That is how I experience it.  
You joined the company in 2019, how did you experience your 
onboarding
 at 
ShipitSmarter
? 
I was welcomed by the managing director who shared ShipitSmarters corporate story with me and I immediately got an assignment to start working on. This helped me to get to know the system rapidly and I could show my colleagues what I could contribute. But the cool thing is that everybody in the company helped me to really understand our solution and processes. At ShipitSmarter we are one team, and everybody is part of it.  
What does a person need to fit at 
ShipitSmarter
? 
We work in a dynamic environment with room for initiatives and ideas. There is a lot to shipping things: so, we have a lot of processes and machinery to help our customers reach their objectives. Therefore, you need to both be curious and careful at the same time. Find your way in a complex, continuously innovating and growing market.  
It is also particularly important to pick your topics of interest and dive into them, be curious, always be interested and keen to learn, able to communicate, able to work individually as well as in teams. Be able to focus and to think out of the box too. And a good sense of humour is very much appreciated around here.   
What do you need at work, at the end of the day, to be happy or satisfied?  
ShipitSmarter is constantly changing, we are challenging ourselves daily to optimize, do better and innovate so that we can continue to provide the customer with the best solution for their logistic challenges.  
I am very happy when a new or improved functionality is added to our Shipment Management Platform. Especially when our customers are immediately starting to use it and our monitoring system is showing positive results. That's what is driving us: a happy customer! 
Quotes: 
'That's what is driving us: a happy customer.'  
'A work environment based on trust, fully supported by our management team. That is how I experience it.'